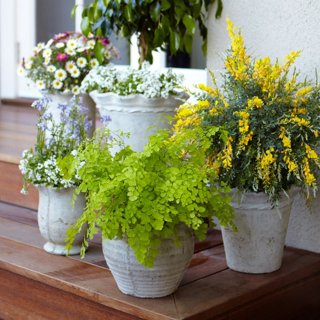 We grow an organic garden and do not use any pesticides, herbicides or any type of poison in our yard, so when it comes to bugs, we are always looking for natural ways to control them.
I just learned that a cluster of mosquito-repelling potted plants will help keep the bugs away from our outdoor entertaining space. Grouped together near a seating area on your deck or patio, they make a pretty and lush addition to your outdoor landscape while also protecting you and your guests.
Check out One Kings Lane's article
Easy Update: Mosquito-Repelling Potagerie
for more information about how a trio of lush potted plants will have you saying good-bye to bug spray.