Since it was International Women's Day this week, we decided to focus on the girliest of girly girl style baby nursery colors. We are all for gender neutral tones for newborns but at the same time, we just love the color combo of a pink and grey baby room with touches of silver. We are seeing a lot of this in the #thatsdarling decorating movement and "darling" is exactly the best way to describe the delicate colors, patterns, details, and decorations.
For some, this may be the only time in their child's lives that you get to make the call of going all pink. For others, you will feel like you may never be able to get away from the princess gowns and pink EVERYTHING. After I told my son that his friend at school was wrong and boys were indeed allowed to like pink, he decided it was his favorite color too. So here's to pink for everyone and anyone!
A lot of the furniture and decor in this post is super affordable and items come from places like Target, Amazon, and Etsy. I may receive a commission if you make a purchase using my links.


Pink and Grey Baby Room Ideas and Inspiration
When I'm looking for inspiration for a decorating post, I always like to pop over to Houzz where the professionals showcase their work. This is where I found some eye-catching and elegant inspiration for this post in this pink and grey baby room with silver furniture.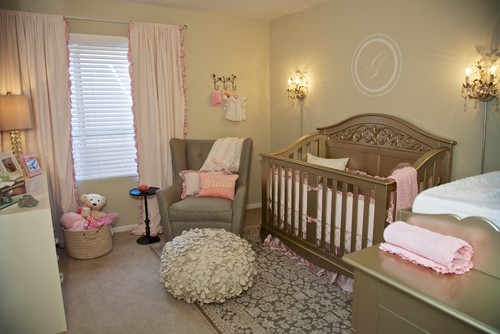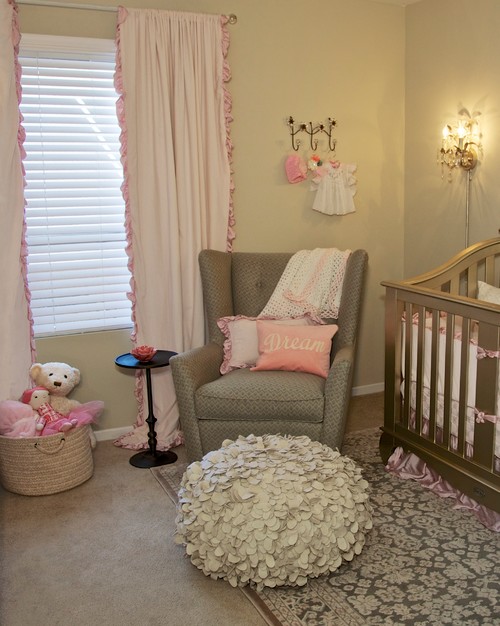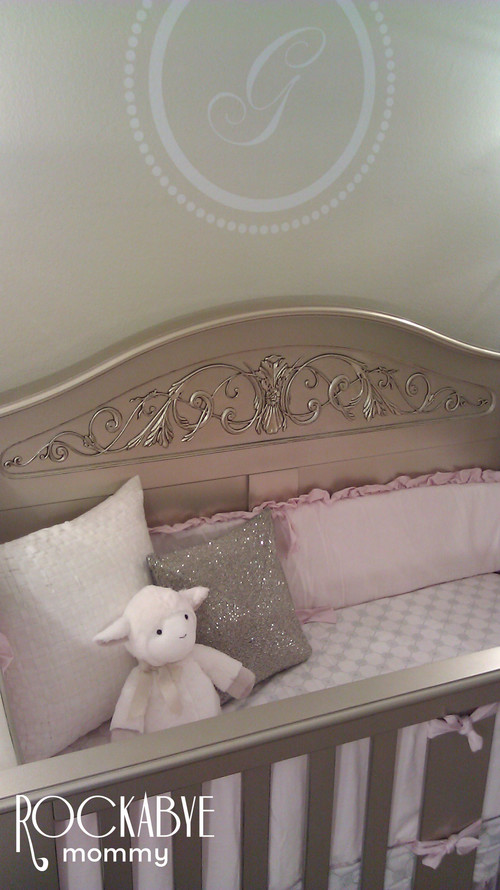 This is likely the crib that the designer from Rockabye Mommy used in this room:


Here's another beautiful in pink and silver baby room from Jamie House Design. I think the Moroccan Tile or Clover patterned wallpapers look gorgeous in these ultra-girly pink and silver rooms!

I was able to find a similar sleigh bed style crib that could be used to copy this look:


Bratt Decor chelsea sleigh crib antique silver
Photo by Jamie House Design
-
Look for transitional nursery pictures
Photo by Jamie House Design
-
Search transitional nursery design ideas
Photo by Jamie House Design
-
Look for transitional nursery pictures
Photo by Jamie House Design
-
More transitional nursery photos
Lambs & Ivy Swan Lake Bedding Set
has an adorable lamp, mobile, and other decor to match the crib set. If you feel like all those baby kicks are coming from a ballerina to be, swans are the perfect motif for this pink room.
Pink and Grey Baby Room Furniture
There are also some gliders that would be nice for rocking the little darling to sleep and because you will need a place to put one of the gorgeous throw pillows you find for your baby room.
I just love this Art Deco style crib. It gets rave reviews and is surprisingly affordable.
I also found these really fun black out curtains (to keep the room nice and dark for naps and sunrise facing) that are pink with the really cute little silver stars.
Pink and Silver Baby Room Curtains and Walls
These fluffy curtains could finish one of these rooms off nicely. I love the layered ruffles in rows at the top.
We see a lot of different graphics for baby rooms with trees and birds and pretty much anything you would like to fill space and add interest but I adore this slightly different idea of just adding silver dots. These could be an easy and much more cost-effective way to get a custom wallpapered look without the hassle and time spent hanging or hiring someone to hang wallpaper.
I think this pink rug with puffy white clouds is one of my most favorite finds. I have a thing for clouds (as you can see on this blog design) but I never thought I'd see something like this in pink!
Pink and Grey Baby Room Rugs
I love these faux-vintage style rugs I found as well. These are fabulous for that modern eclectic look that is so popular and fun to work with because you can work in Art Deco, florals, modern and various styles with a common color scheme.
I found this beautiful print of a carousel in Paris on Etsy.com that comes in various sizes. I think it would go nicely with some of these pink and silver rooms.
Other Pink and Grey Baby Room Decorations, Art, Lighting, and Accessories
These floral canvas wall art pieces are a great way to add interest, fill space, and not get too busy either. You can buy them in all different colors and even sets where you can add the baby name letter.
We love the idea of crystal chandeliers in a baby nursery. This shaded chandelier evokes more of deco style with the romantic crystals.
Of course there are the more traditional style baby room chandeliers which can be so pretty in a baby girl's room.
But if you don't want to go through the trouble of hanging an chandelier, I recommend a beautiful chandelier lamp that can sit on a dresser or side table and get the look without hiring an electrician.
AND it also comes in pink!
As usual, congrats on the baby and enjoy decorating the little one's special bedroom!